Celso Grebogi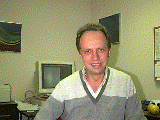 Professor of Mathematics
Institute for Plasma Research
Institute for Physical Sciences and Technology
Distinguished Faculty Research Fellow
---
Celso Grebogi earned his bachelor's degree in the field of chemical engineering from Universidade Federal do Parana in Brazil. Professor Grebogi decided to pursue graduate studies in the United States after he was awarded the Fulbright Fellowship. He received his master's and doctoral degree from the physics department in the University of Maryland at College Park. After obtaining his PhD, he joined the Lawrence Berkeley Laboratory at University of California, Berkeley as a post-doctoral fellow. In 1981, Professor Grebogi returned to the University of Maryland and became a member of the Laboratory for Plasma Research (now Institute for Plasma Research) where he has remained.
Like Professor Ott, Professor Grebogi was doing extensive research in the field of plasma physics before his work on chaotic dynamics. Professor Grebogi's research on chaotic dynamical systems combines analytical methods and techniques with extensive computer experiments utilizing state-of-the-art computational facilities. The objective of the research is to establish basic mathematical principles so that scientists and engineers can then apply these principles to understand and analyze the systems they are investigating in their own fields. Using this approach Professor Grebogi and his colleagues have obtained a number of important results e.g.: the establishment of "crises" is the fundamental process by which chaotic attractors undergo sudden changes as a system parameter varies; the mathematical theory and experimental verification of how transient chaos phenomena are likely to manifest themselves in practice; and the work on fractal basin boundaries that pointed out the important practical consequences of this type of boundary. The current research focuses on methods to control chaos, the dynamics of spatio-temporal systems, and the rigorous determination of how long actual trajectories of a chaotic process stay near a given numerical trajectory, i.e. the problem of shadowing. Professor Grebogi has also been arguing that, when analyzing systems which exhibit irregular behavior, modeling must be expanded to include algorithms which make use of measured time series. These ideas which include observation, analysis, and control of chaotic systems have been widely implemented by experimental scientists and engineers.
In recognition of Professor Grebogi's advances in knowledge through original research, which amounted to about a hundred and thirty scientific publications, he was elected a Fellow of the American Physical Society. In addition, he is often invited by universities and institutions in the States and around the world to give lectures on all aspects of chaos. Recently, Professor Grebogi was awarded the Toshiba Chair as a world-renowned scholar at Waseda University, Japan, and he also received the Humboldt Prize from Germany in recognition of his research accomplishments.
An updated CV of Professor Grebogi is available online. It includes a list of his publications.
Here is an interview (in Portugese) with Professor Grebogi.
The following image depicts how colorful and lively Brazil can be!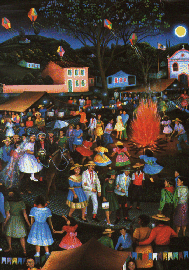 (330K)
---
Contact Information:
Professor Celso Grebogi
Institute for Plasma Research
UMCP, College Park, MD 20742